Islamic leaders say Australians have risen above fear in wake of Sydney siege
Islamic leaders say Australians have risen above fear in wake of Sydney siege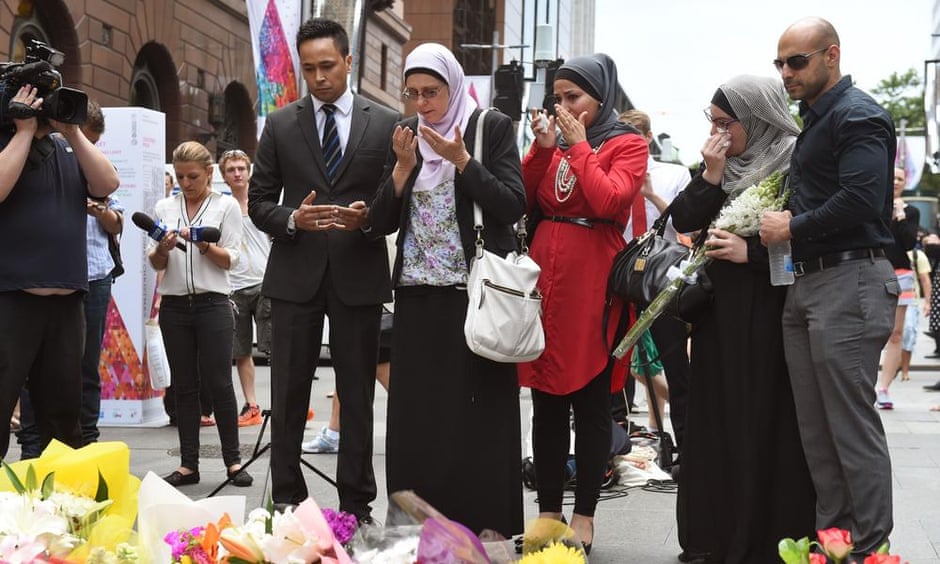 Australian Islamic representatives have expressed optimism that the Sydney siege
will not trigger an escalation of physical and verbal attacks on
Muslims, despite sporadic threats made during the unfolding crisis.
Man Haron Monis, long viewed as a fringe figure in Sydney's Islamic community,
held 17 people hostage in the Lindt cafe in Martin Place. Monis, along
with two hostages, died in the shootout that ended the siege.
An online initiative using the hashtag #illridewithyou has been
shared more than 100,000 times on Twitter and Facebook since Monday. The
campaign involves members of the public offering to take public
transport with Muslims and to reassure those who may be targeted as a
result of the siege.
The far-right Australian Defence League urged people to "converge" on Lakemba, a district of Sydney
with a significant Muslim population, and launched its own hashtag
#IWillNotRideWithYou. Several Muslim Australians, who asked not to be
named, told Guardian Australia they had experienced verbal threats in
the wake of the siege.
New South Wales
police said there had been no reported confrontations but "threats are
treated seriously and police will act if the law is broken".
Lydia Shelly, a Muslim and lawyer who set up the Islamophobia Register, said she was aware of threats by "rightwing groups" but that overall the response of the public had been positive.
"We've received overwhelming messages of support from Australia and
overseas because people know this doesn't reflect Australian Muslims,"
she said. "We realise Australia is mourning and we realise this is
something that will change Australia, quite frankly.
"But Australians overwhelmingly have risen above the fear and
mistrust. This is a test and we are all responding quite well. We are
all feeling a little vulnerable as this is a bit of an unknown. We don't
know how all people will respond but I'm optimistic. I think we can
unite. Australia is better than this."
Kuranda Seyit from the Forum on Islamic Relations said he was generally encouraged by the response of the Australian public.
"There are groups like the ADL that are trying to capitalise upon
these issues and I'm sure some politicians will go back to the issues of
migration and the burqa," he said.
"The
repercussions will be long lasting and it will be a hard climb back
from this for the Islamic community. There is worry in the community,
especially among women who are conspicuous in the way they dress.
"But I've been very heartened by the reaction of the community. The
broader Australian community has come out in solidarity with the online
support. It will all be close to the bone in Sydney because two people
died, so it will stir up emotions, but I'm confident it won't lead to
major problems."
Seyit said Monis was a "disturbed person" who "used Islam as a way to get attention". But he said more needed to be done to connect with radicalised people.
"The problem has been in our face since September 11 but we failed to
act, we were complacent," he said. "We need to understand the causes of
radicalisation and deal with it at its deepest root. We need a
long-term strategy, empirical research and data and outreach programs."
Iqbal Patel, former president of the Australian Federation of Islamic Councils, said he was in contact with Monis for a number of months in 2008 and said he appeared "mentally unstable".
"He was someone who had a warped view of the place of religion in a
country like Australia," he said. "The Australian community has
identified that this man acted alone. My heart goes out to the families
[of the victims], this isn't something that should happen at any time. I
really hope people won't use this in any way to make matters worse.
"I think any individual that shares their good intentions with a
Muslim woman who wears a hijab and says, 'I'm with you, please don't
feel intimidated,' is a good thing. You don't need to be a priest or an
imam to show compassion to the world."
Iranian-born Monis sought asylum in Australia in 1996, subsequently
giving himself the title Sheikh Haron. He was charged last year with
being an accessory to the murder of his 30-year-old former wife Noleen
Hayson Pal, a mother of two who was allegedly stabbed to death and set
alight in April 2013.
The head of the Australian Iranian Community Association, Sam Ghahremin, said Monis was not known to the Iranian community.
"When we found out he was Iranian, we were really sorry about his
actions, but he was acting alone and he had a mental problem," he said.
"The community as a whole condemns his actions.
"This is a concern for the whole community but at this stage we are
still in shock. I think the Australian people understand that this was
the act of an individual."